News
Sheffield Britains fifth largest city like the rest of Britain's big cities is in the calm before the Coronavirus storm stage. Where barely a couple of weeks from now everything isa likely to change when Corona viral outbreaks start taking place across the UK. Because unfortunately the NHS is barely able to cope with the regular winter flu let alone a strain that is 100 times as deadly so the NHS will soon be overwhelmed with seriously ill patients requiring intensive care, and it won't take more than a dozen such patients to tip the healthcare systems in each of Britain's big cities such as Sheffield, unable to cope with even small volumes of Coronavirus ill where the only response to 111 calls will be for patients to self quarantine themselves at home as hospitals become hotbeds for the transmission of the virus, so places definitely to steer clear of to avoid becoming infected.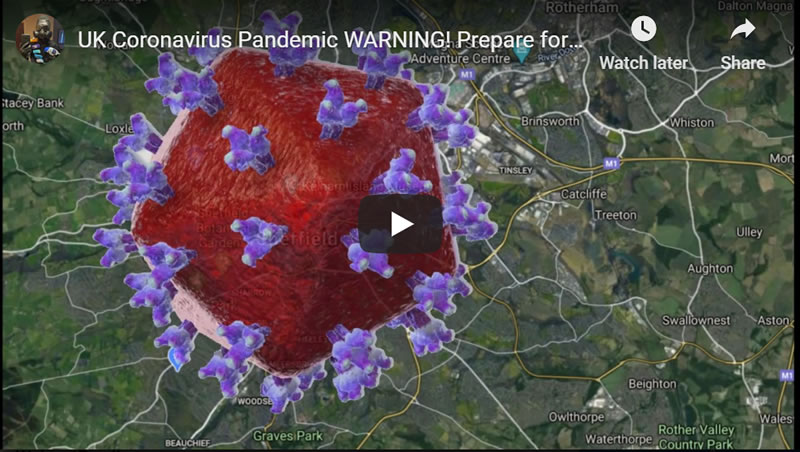 By N Walayat
The primary conduit for the spread of the Coronavirus outside of China are Chinese people (mostly students) who traveled out of China during the past few weeks, including several tens of thousands from the Wuhan epicentre of the outbreak. So it should not come as much of a surprise that the first declared infection in the UK is from a Chinese student at York University who has sent authorities scrambling to investigate all contacts that the student had as potential sources for further outbreaks of this deadly coronavirus.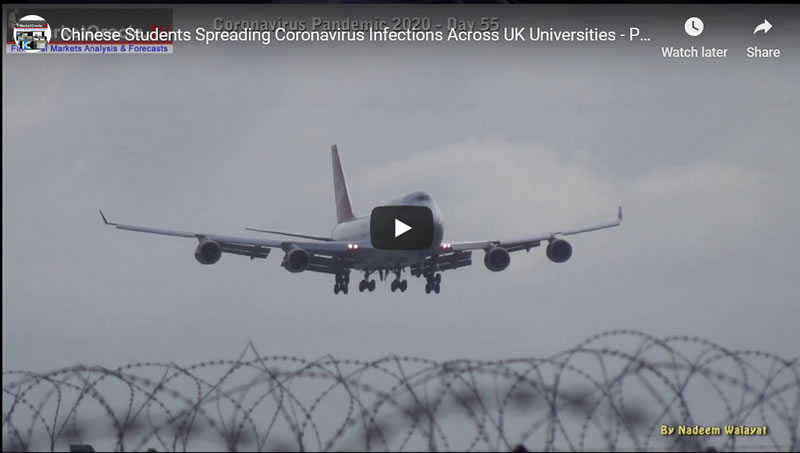 By N Walayat
The Coronavirus continues it's exponential spread across China, this despite Chinese state propaganda peddling a line of measures taken especially earlier in the month having limited the spread of the virus that is not being born out by data released that on a daily basis shows the spread is exponential to across the whole of China and likely neighbouring nations.
My analysis and concluding forecast of 28th January based on data up until the 27th of January utilised trend analysis to forecast that the Coronavirus could infect over 1 million people by the end of February 2020, which given the apparent fatality rate of 3.5% at the time converted into an death toll of at least 35,000. Which if it transpired would be far worse than the 2002-2003 SARS pandemic that infected 8,098 over 8 months resulting in 774 deaths, and thus the Coronavirus would have significant economic and market consequences.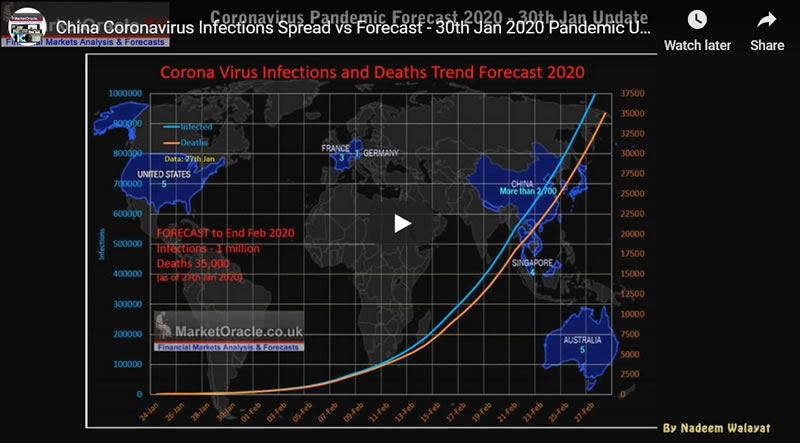 By N Walayat
One of the worst places for a pandemic to begin is from within a totalitarian state as local party minions tend to be too scared to pass bad news up the chain of command, and obediently wait on orders from leaders residing many hundreds of miles away, by which time it's too late where virus's are concerned, and so it has been with the Corona virus outbreak in China. Don't be fooled by Chinese state propaganda of panic building of hospitals, chinese communist party bureaucracy ensures that it is already too late! The Corona virus has spread throughout China!
I am sure you have all seen news footage of deserted Wuhan streets. Though none of the news reporters appear to have put 2 and 2 together and worked out the reason why the streets are empty is because most of the people living there have already FLED the city, taking their Corona virus infections with them! TOO LATE, OUT OF CONTROL!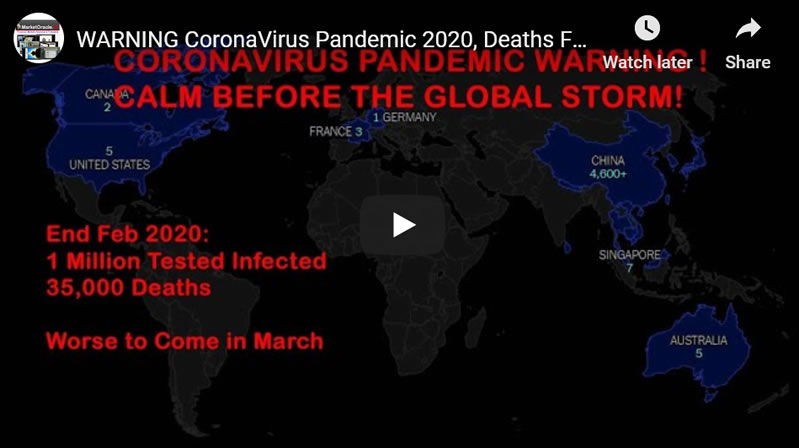 By N Walayat
The Sheffield city council and it's contractor Amey remain determined to fell Sheffield's biggest trees apparently because the councilors signed a contract that contained a clause that x number of trees would be felled by y date, and so virtually every working day sees hundreds of Sheffielders out on the streets attempting to defend Sheffield's remaining big trees after near 6,000 have already been felled to date with tens of thousand of people supporting the campaign across several facebook groups.
Today saw witness to the Police arresting a tree protestor on Meersbrook Park Road for allegedly obstructing the highway.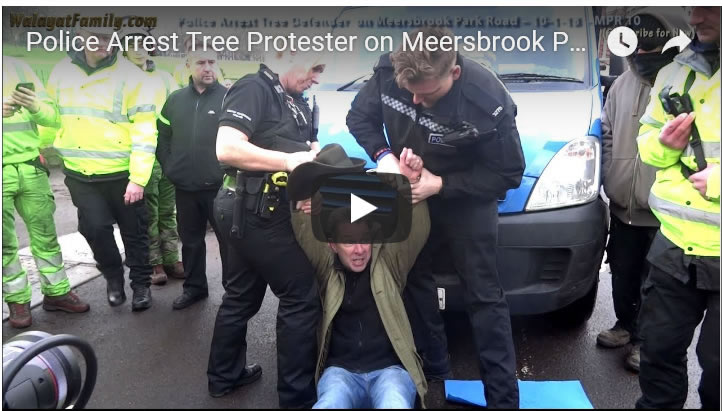 However. that is not the whole story for the mainstream media "The Sheffield Star" is painting a picture of the police officer(s) being subjected to an angry mob and being assaulted and injured!
"A man has been arrested today for allegedly attacking a police officer during a protest over tree felling on a Sheffield street."
"Tempers reportedly flared between a group of protesters and police in Meersbrook Park Road, Meersbrook, at 12.20pm."
"The officer suffered minor injuries during the incident which did not require hospital treatment."
However, this does not match video evidence of what actually happened and its aftermath. For one thing the protestors were out numbered by the HiViz Amey Security who appeared itching to intervene, i.e. kept prompting the police officers so that they could be allowed to more forcible intervene.
Also the police officer was clearly NOT injured by any stretch of the imagination and therefore the Sheffield Star in my opinion is reporting FAKE NEWS. Anyway you can watch the video and make up your own minds on whether or not the Police officer was injured as The Star reports.
And here are a few stills from the video: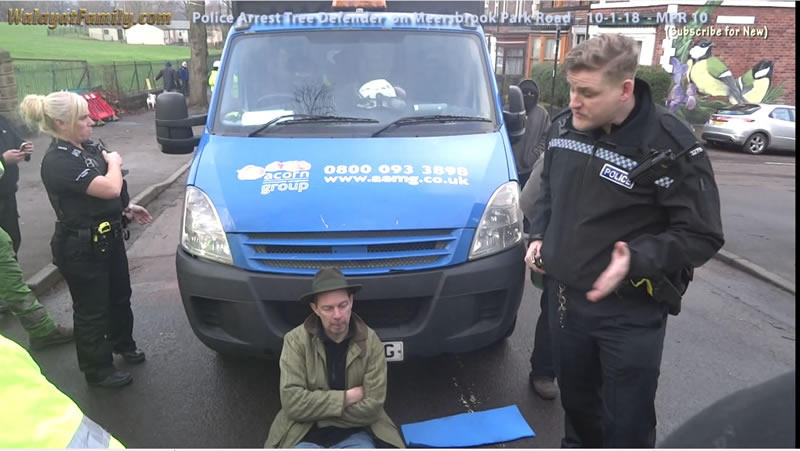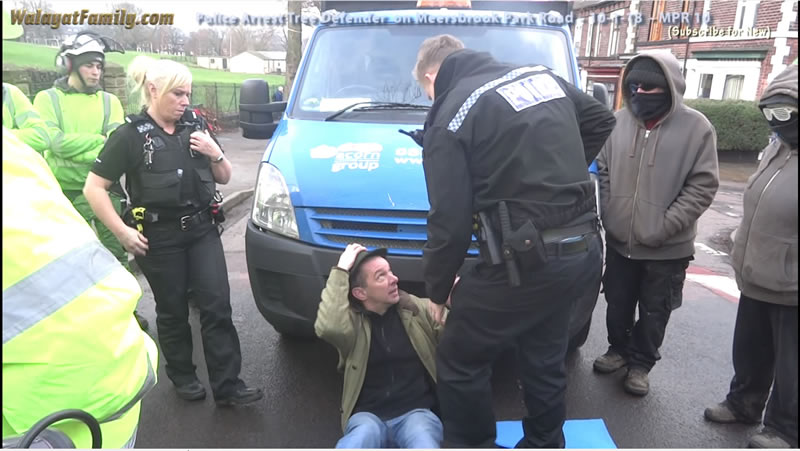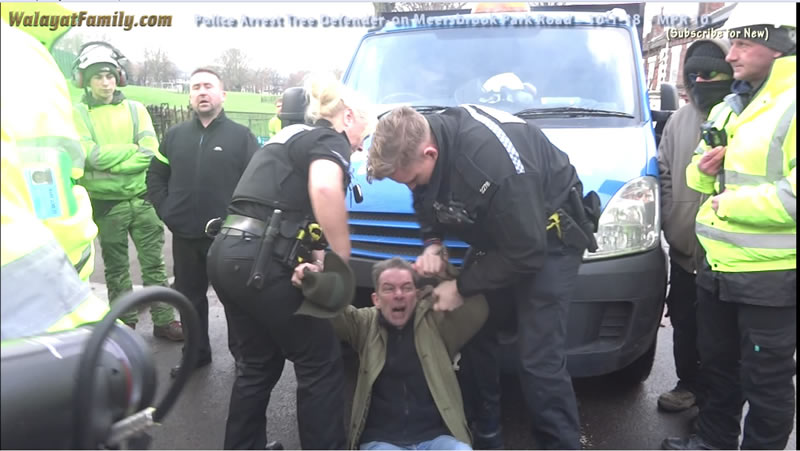 I am sure many will have watched the LORAX movie with their children that acts as a warning of what can go wrong when corporate greed runs rampant resulting in the destruction of the environment. Unfortunately the people of Sheffield find themselves in a similar predicament as thousands of street trees are being felled by a corporate Once-ler giant named AMEY. In response to which many of Sheffield's ordinary citizens have turned into real life LORAX who speak for Sheffield's street trees. Against whom are martialed the forces of the establishment, a Labour controlled city council and it's £2.2 billion PFI contractor Amey. Where we have been increasingly witnessing the deployment of measures on the streets that go far beyond the realms of what one would expect from a British local city council, instead which resembles private militias roaming the streets along with their green vested evidence gatherers akin to something out of an eastern european dictatorship.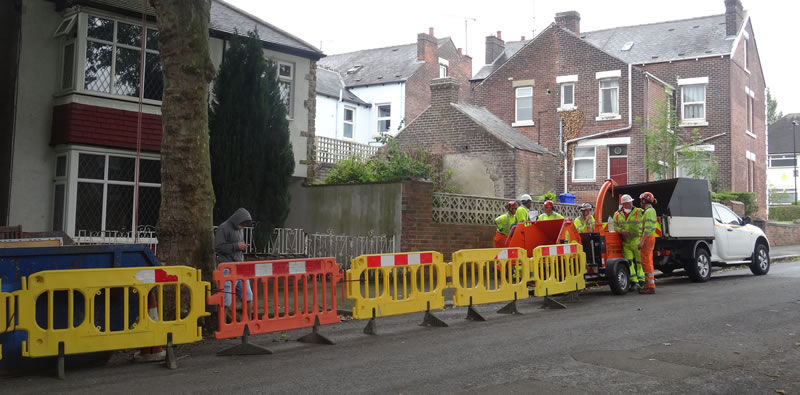 So here is a window into the world of the REAL LORAX, Once-lers and Thneedville Sheffield.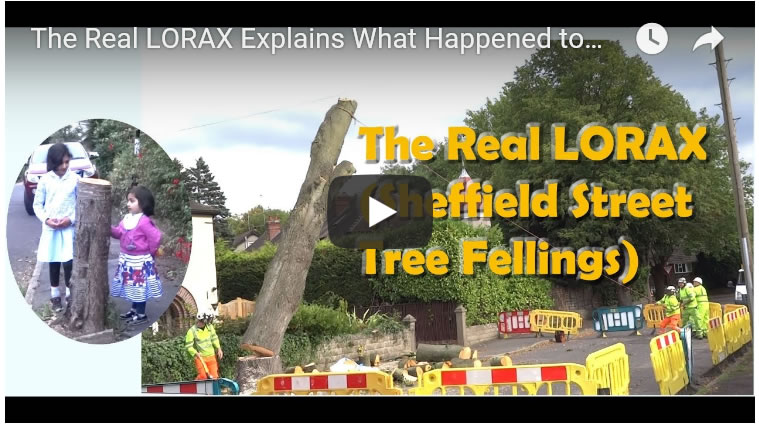 Happy New Year 2018 to all! And here is one of Sheffield's best home christmas lights decorations displays of 2017.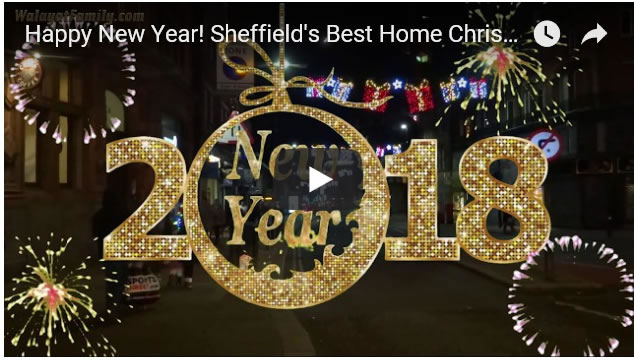 A few stills from the video: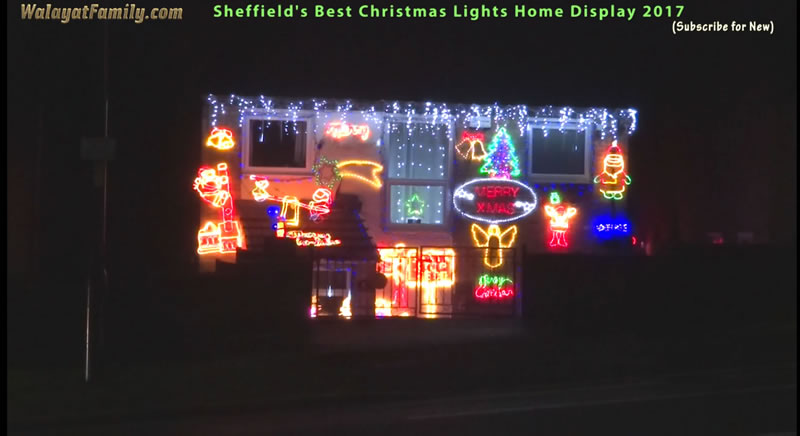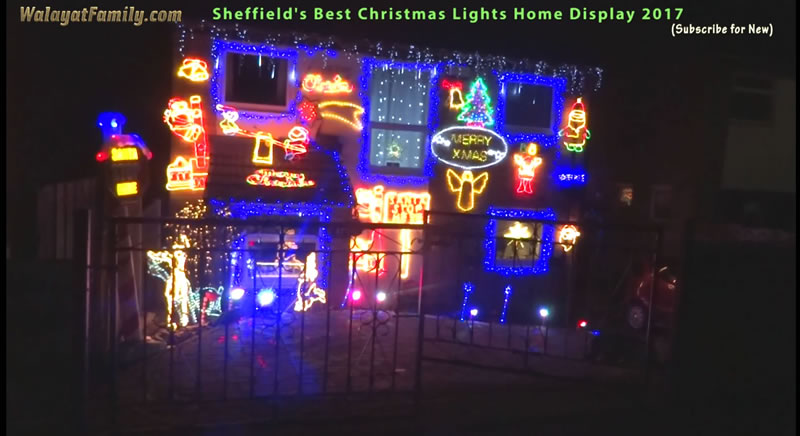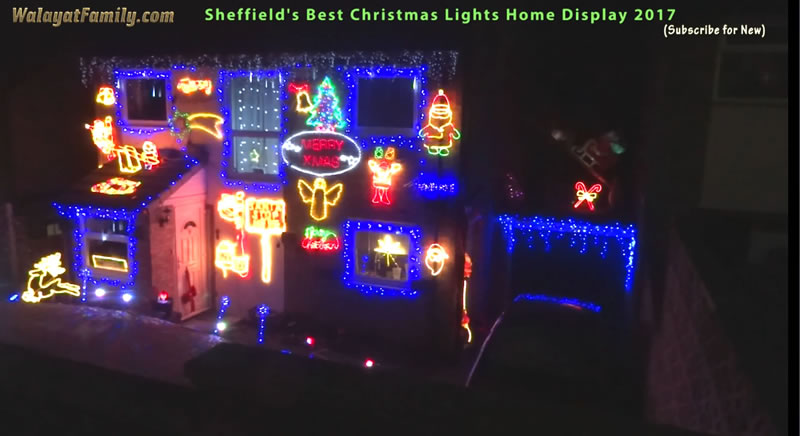 There's still time to enjoy Sheffield's Peace Gardens Christmas Display that features a giant walk in bauble and box present, and here we add our own bit of extra magic with a transparent helium balloon.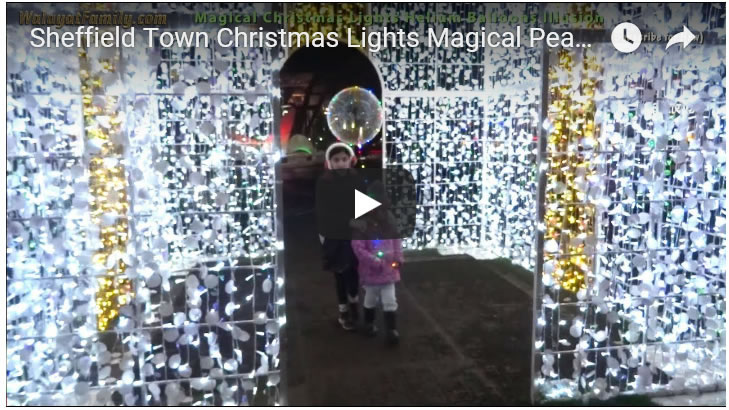 Some stills from the video: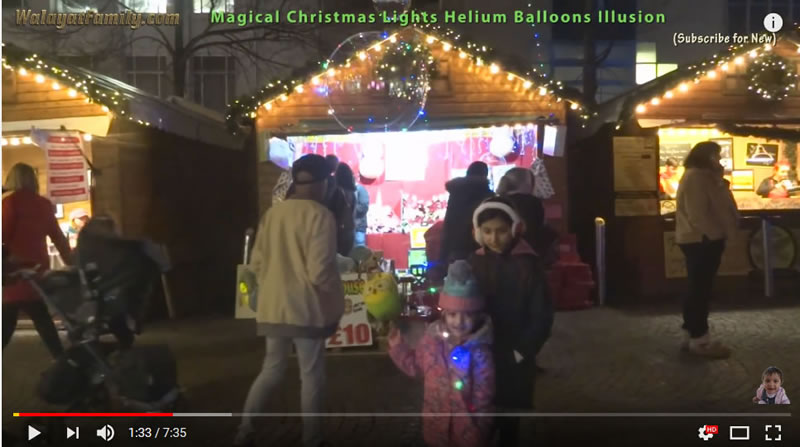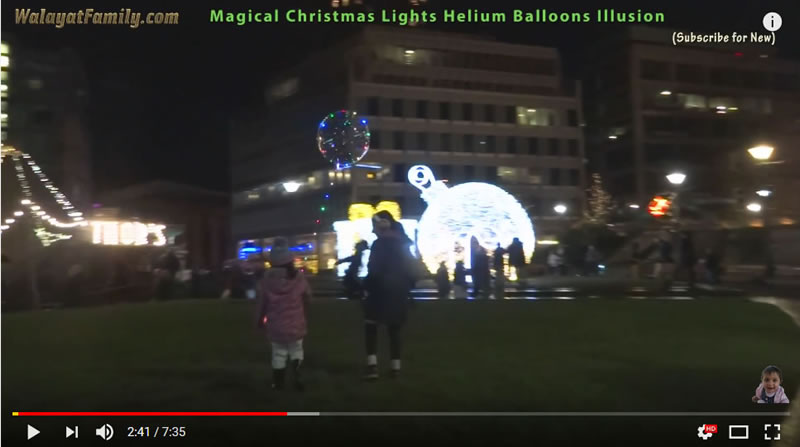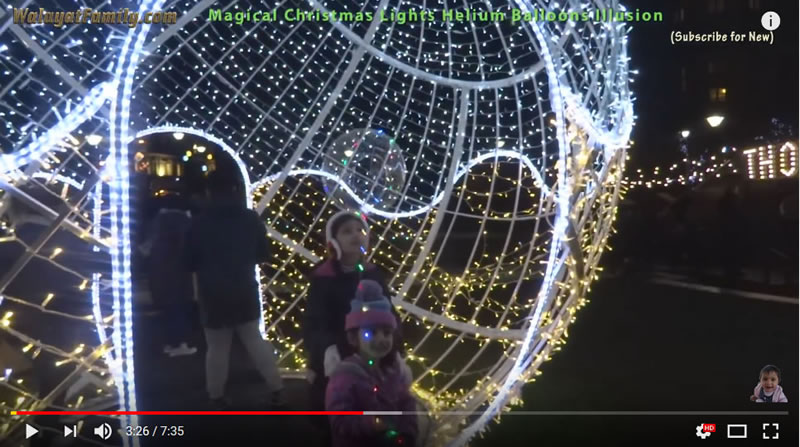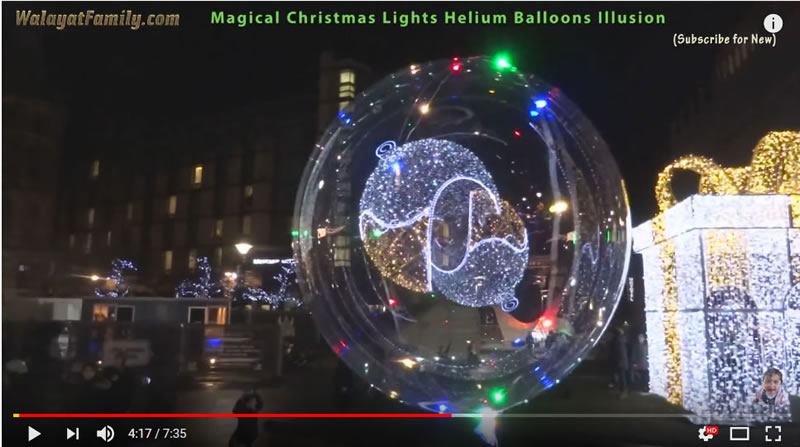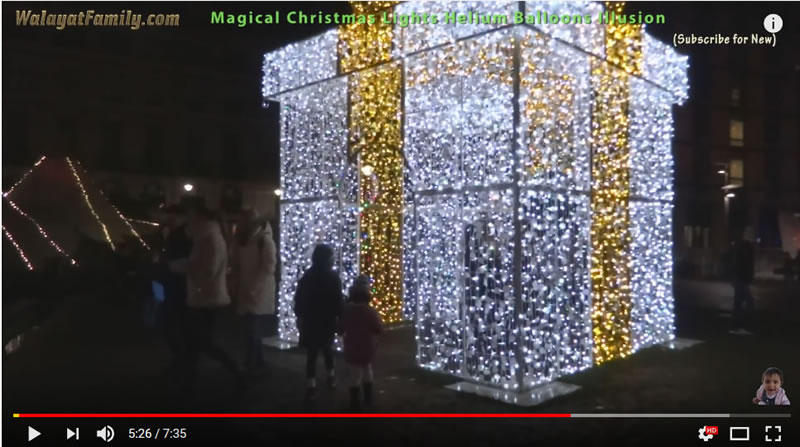 For the past 3 months the Tree campaigners of the Millhouses area of Sheffield have put up a brave effort at attempting to save Millhouses Lane's big Ash tree 'Milly' that saw many tree campaigners out from dawn until dusk protecting the tree in all weathers, from late summer, to autumn right through to the bitter cold of late November into mid December. First came the cropping of 10 days ago that saw Amey / Acorn take street overhanging branches, but still the tree lived on, and so did the campaigners continue to brave freezing temperatures. Unfortunately on 20th December, Amey / Acorn came in the very early hours of the morning at around 4.30am to complete the felling of Milly. Which now stands no more, just a mere stump remains where once a mighty Ash tree once stood.
Here is the story of Milly's life of its last four weeks from a big strong Ash tree, to a heavily pruned half tree and finally into the last few hours that saw Milly's untimely demise.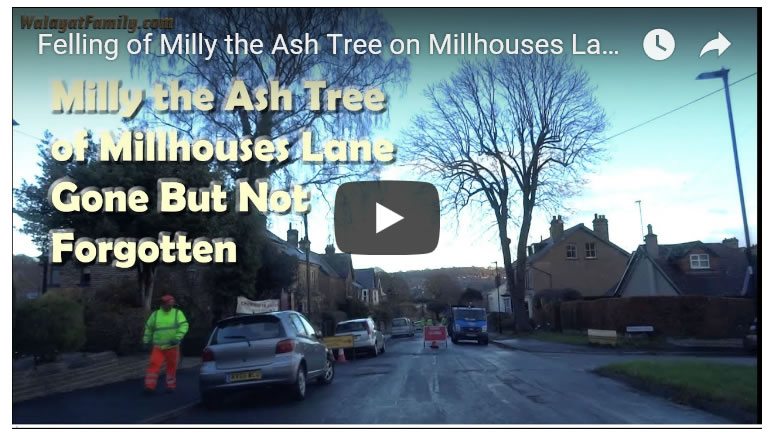 And here are a few stills from the video: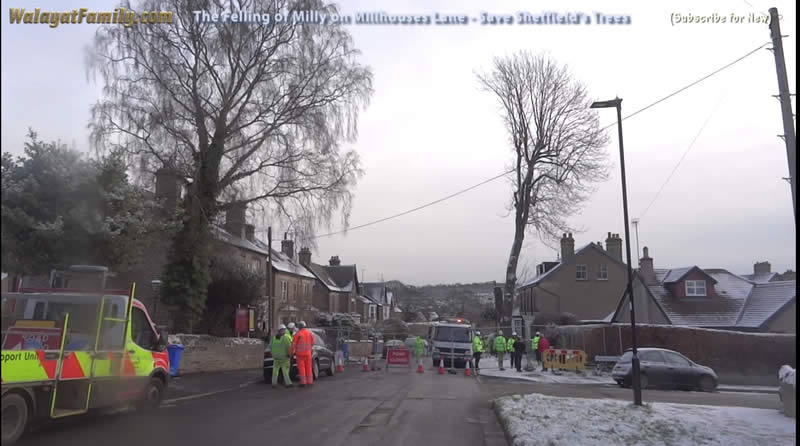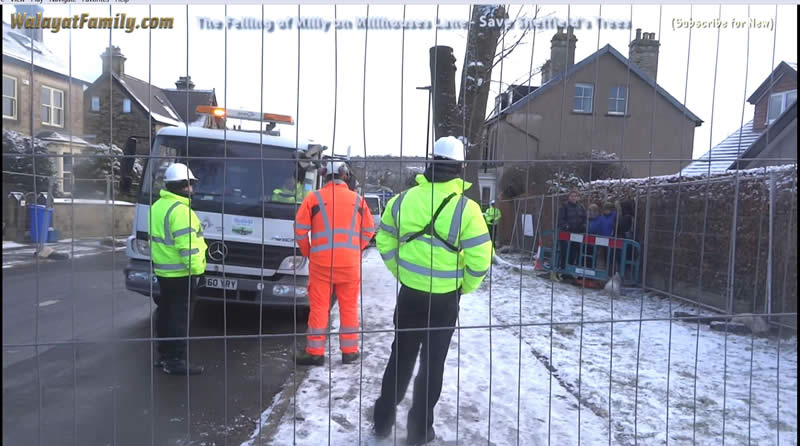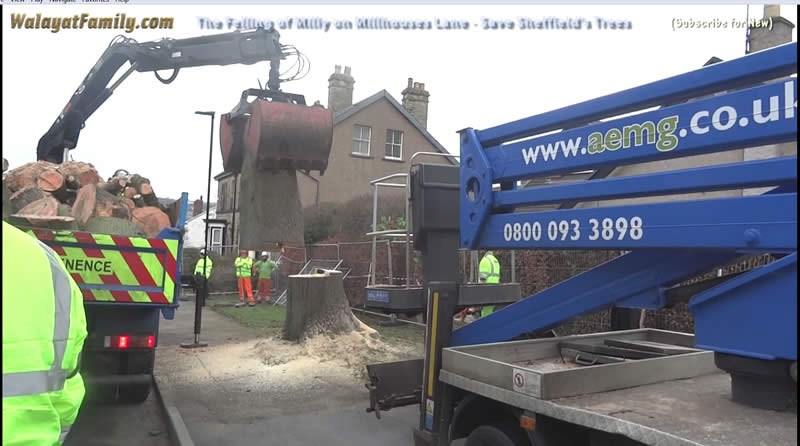 We are the LORAX and we speak for the trees and I'd like to say a few words if you please, regarding the story your about to see it actually happened just take it from me. BUt there is more to this story than whats on a page so please pay attention whilst I set the stage. We open in Sheffield a city they say that was made of steel and coal and they liked it that way. A town hall without nature, not one living green , so what happened to our trees, cue the music lets see....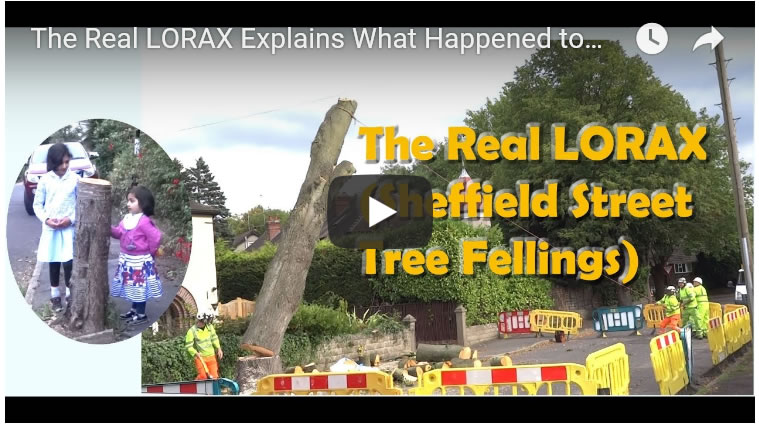 A few stills from the video :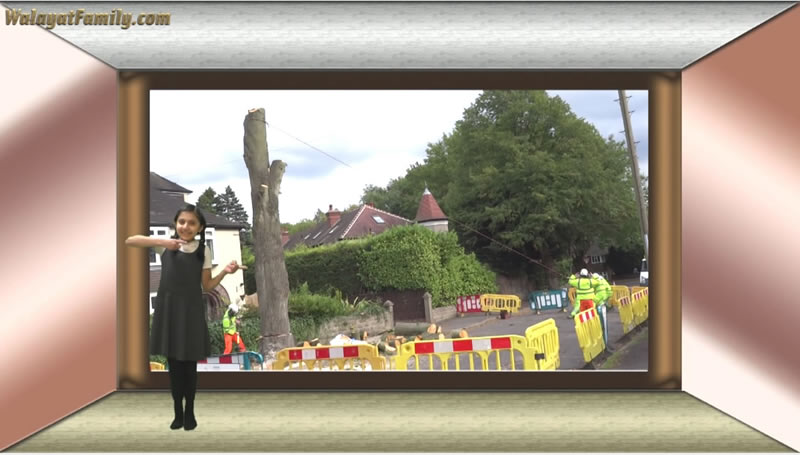 The Labour controlled Sheffield City Council's 'streets ahead' PFI contractor Amey has deployed increased tree felling / security resources at the start of this week in an attempt to fell hundreds of trees before the end of this year by deploying what resembles an army of green capped hi vis jacketed security personnel to accompany felling crews that tend to far out number the protestors standing beside street trees in freezing temperatures across dozens of Sheffield's streets. The catalyst for this weeks escalation is the looming deadline contained within the PFI contract to fell 6,000 of Sheffield's big street trees by the end of 2017 (out of an estimated total of 36,000).
Thursday saw the Amey personnel descend upon the cherry tree lined Sheffield suburban street, Abbeydale Park Rise, populated by at least 60 Cherry Trees which each Christmas has virtually every tree covered in Christmas lights as is the case for this year. With security personnel and felling crews having descended upon the narrow street towards meeting Amey's 6k street trees felling quota as the following video illustrates: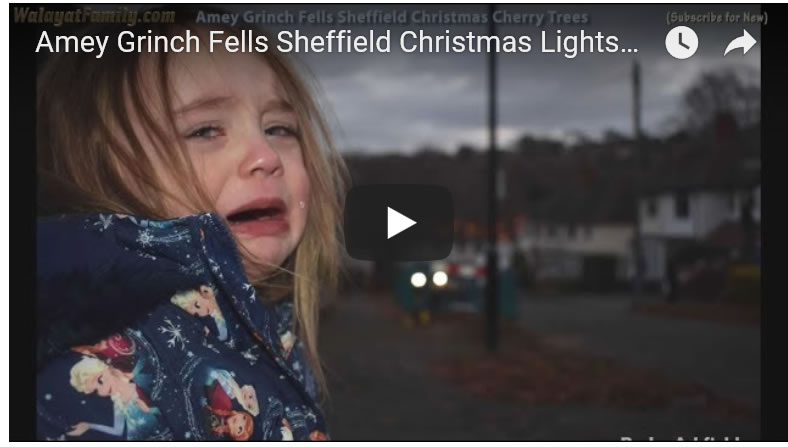 Here are a few stills from the 12 minute video: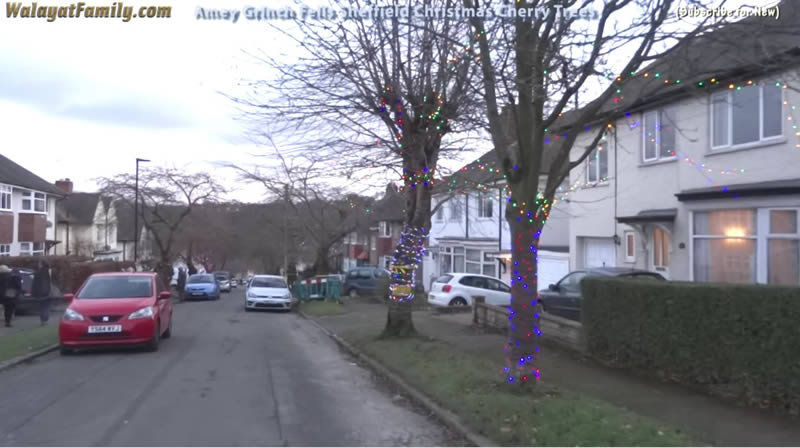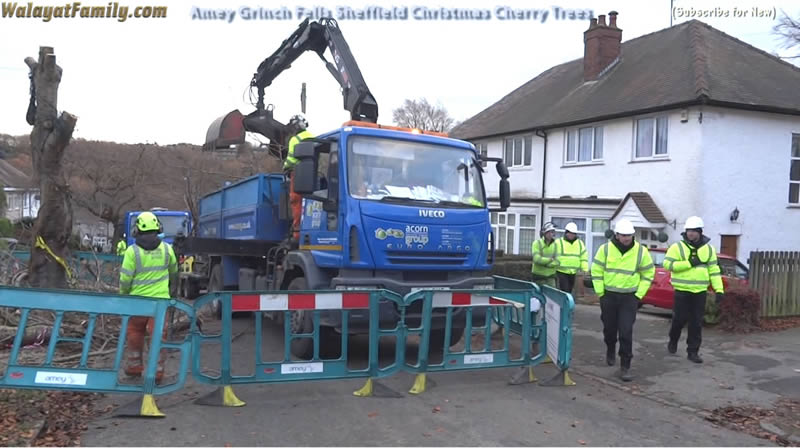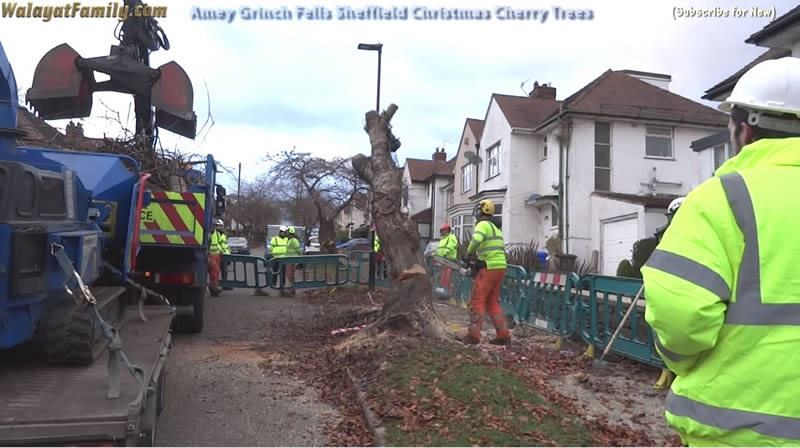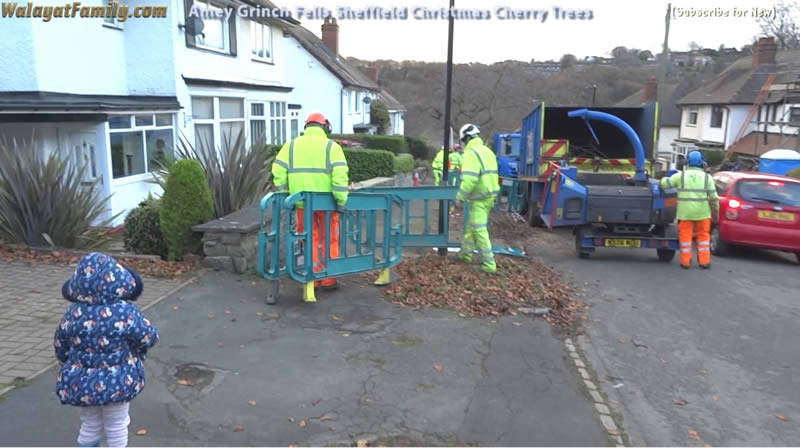 It's going to be bonfire night again soon and already groups of teens can be seen roaming the streets letting off fireworks in all directions. So here is a timely reminder that fireworks can be VERY DANGEROUS if not handled correctly even for adults, which is why children should never handle fireworks!
Follow our some simple timely rules such as never holding a firework or returning to a firework once lit so as to ensure everyone has a happy and safe Guy Fawkes bonfire night 2017!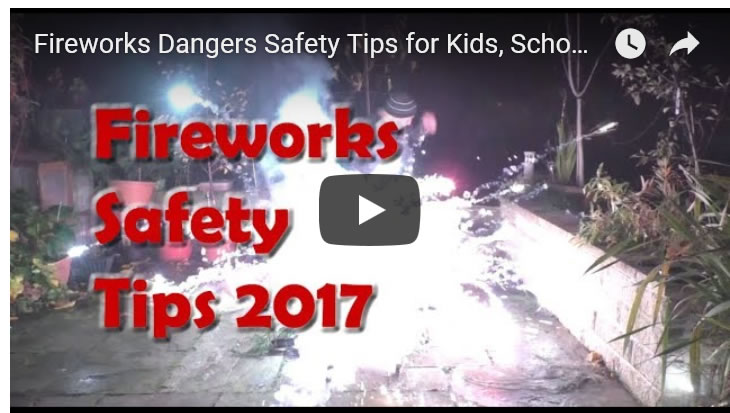 Sheffield City Council's Streets Ahead PFI Contract with the Spanish Ferrovial family owned multinational Amey apparently also means that many of the Sheffield's tree lined suburbs are being stripped of virtually all of their big trees that have taken over 100 years to grow to their current house prices boosting splendour.
The big question is does felling of these community assets valued at approx £50k each (CAVAT method) also mean that the properties on these streets are also being felled?
We'll here's an example of what happened to one tree lined Sheffield street over the course of a couple of months during 2017 that was stripped of ALL of its street trees so you can make you your own minds up whether this street is now more or less appealing to prospective home buyers.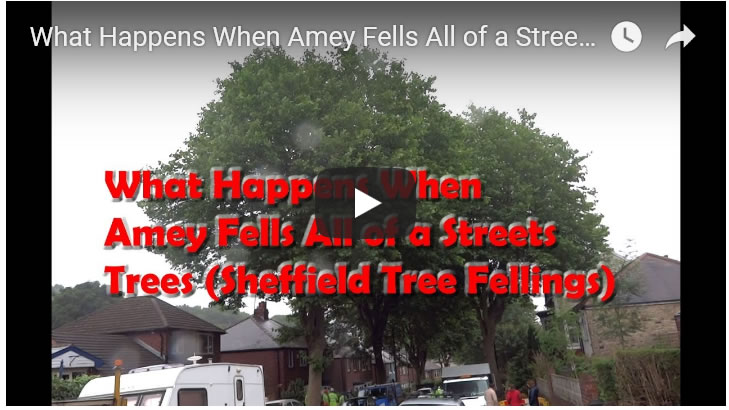 Upside Down Car Hanging off a Peeling Road Sculpture, Tinsley Sheffield
Drive down to the Tinsley area of Sheffield and you may be in for a surprise scence, one of a car literally hanging upside down on a pealed roll way. Yes it's difficult to imagine so see the video and the still images of what a real car hanging off a pealed road surface looks like. Though this sculpture is not going to hang around for long so if you want to see it be quick, cos likely it will be gone within days.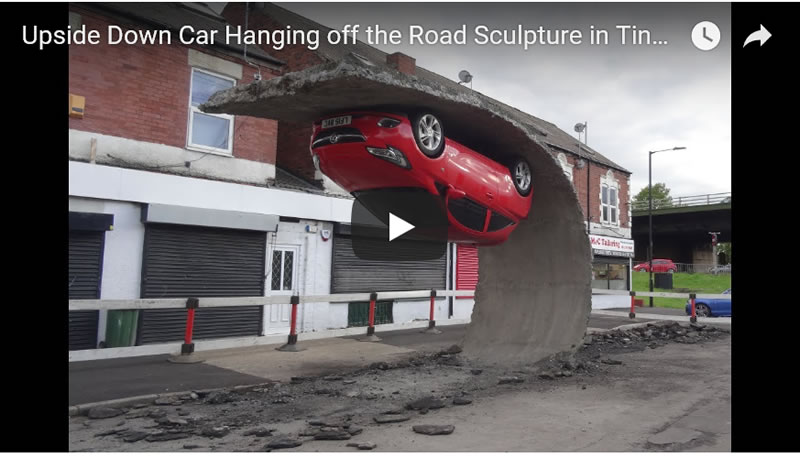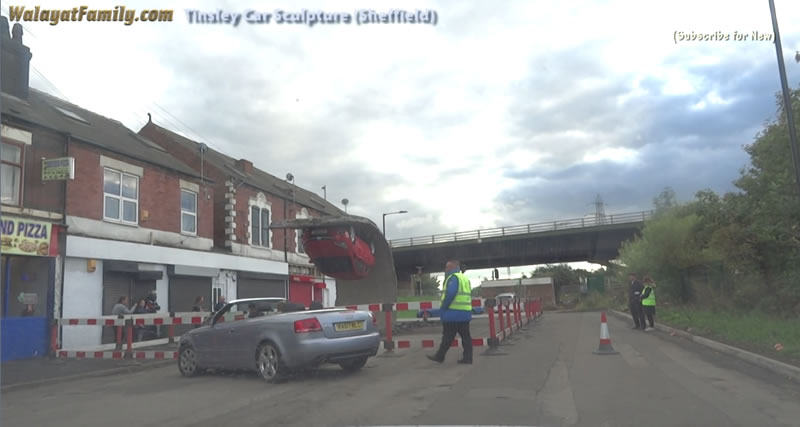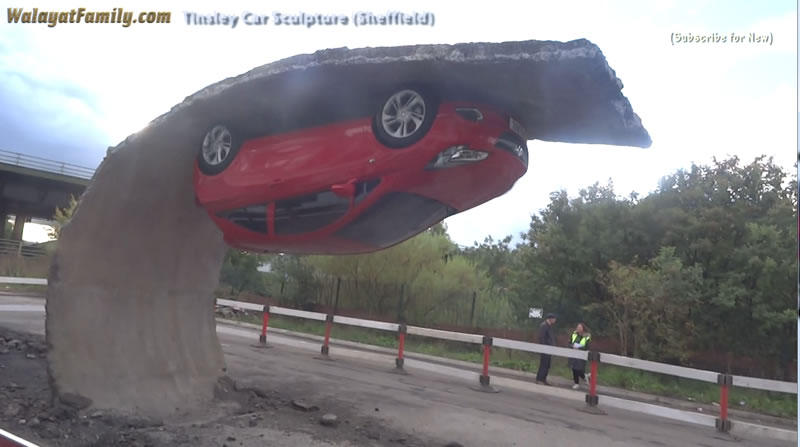 The Labour run Sheffield city council has decided to fell Sheffield's best street tree, the Chelsea Road Elm that had been awarded England's second best tree of the year award by the Woodland Trust. This is despite repeated promises that it would not be felled, but with Amey's initial tree felling tranche of felling 6000 street trees nearing completion, so now those trees that previously had been deemed to have been saved are now set to be felled.
And this comes literally days after Sheffield Hallam MP Jared O'Mara told constituents that he had been told it would NOT be felled. Instead the Council warns that the tree would be cut down next summer. However a huge skip has appeared next to Elm tree and signs have gone up on Chelsea road that suggest the felling could begin barely 3 days from now, the 12th of September 2017.
The Chelsea Road Elm Tree had become the symbol behind which thousands of Sheffielders had campaigned to halt the wholesale deforestation of Sheffield's street trees, loss of capital value averaging at £60,000 per large mature tree felled, that has now been stripped from hundreds of Sheffield's trees, which inevitably will convert into loss of housing valuations of not those streets where trees have been felled but the whole of city has been devalued, now having become infamous for it;s council cutting down thousands of its best street trees.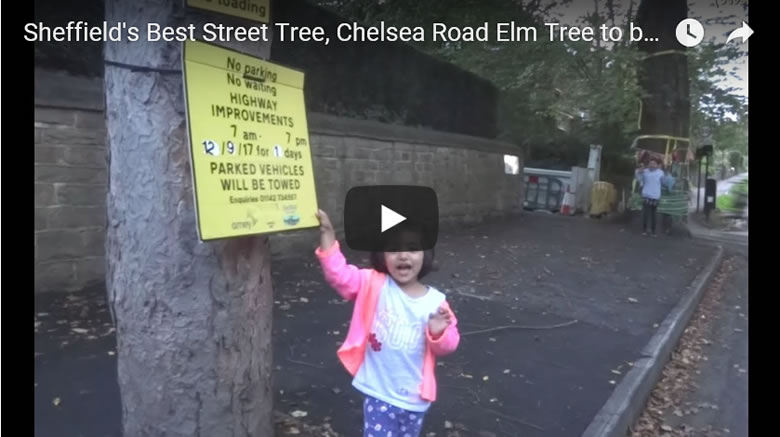 Some stills from the video:
Signs that the felling may be imminent are a large skip having appeared next to the elm tree.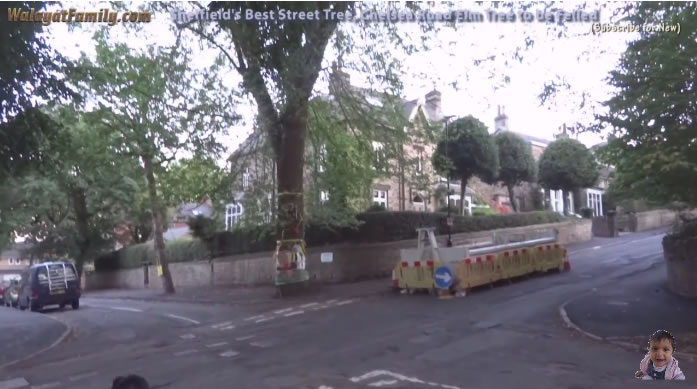 The road is to be closed to vehicles on the 12th of September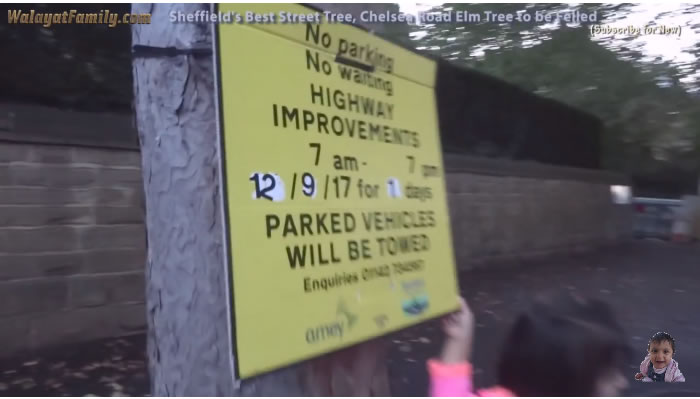 The Chelsea Road Elm Tree has recieved much mainstream media attention that includes BBC Look North and Calander News.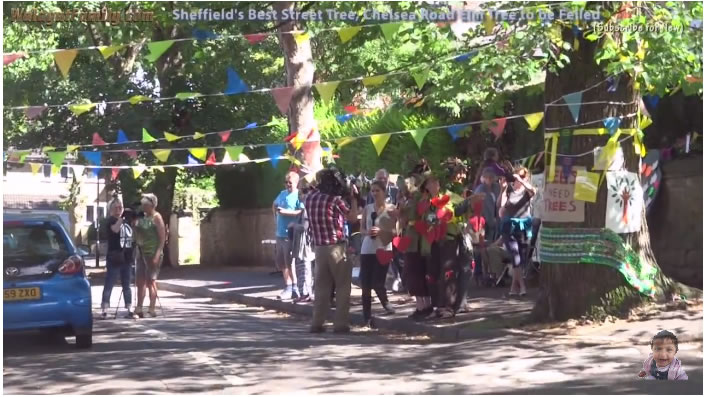 The long Bank Holiday weekend is well underway, and many day trippers can be expected to hit the coastal seaside towns such as Bridlington. Whilst it's a time of letting ones hair down and relaxing. However don't make the mistake of letting your guard down too much as seaside fun could easily turn into a nightmare day trip.
Our day trip began nearly 2 miles North of Bridlington Harbour, a long walk towards our final destination, completely oblivious of the fate that awaited one of us as wee made the mistake of going on a Purla boat trip.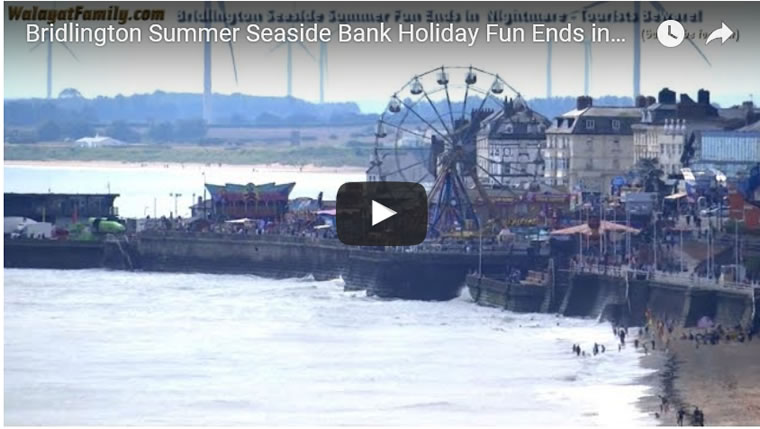 So tourists always beware!
By N Walayat
I was GCSE results day Thursday, when 16 year olds across England and Wales will have been busy popping down to their secondary schools to find out if they managed to get their requisite GCSE grades for the courses they intend enrolling on for September start.
Overall minimum pass grades awarded of C/4 are marginally down on last year by 0.6% to 72%. Whilst a C is a pass, given the competition to get accepted on courses then the ultimate objectives are to achieve the A* and 9 grades for selected subjects. So if a student is choosing to enrol on 3 A-levels in September than objective would be to achieve 3 A*'s in those 3 chosen subjects as a sign of having the capability in achieving a similar grade at A level.
Anyway here is Adnaan's story one of thousands of Sheffield student's getting their A level results today at Sheffield's secondary schools such as Silverdale school, with the mainstream media interest more on how things when in the more inner city schools.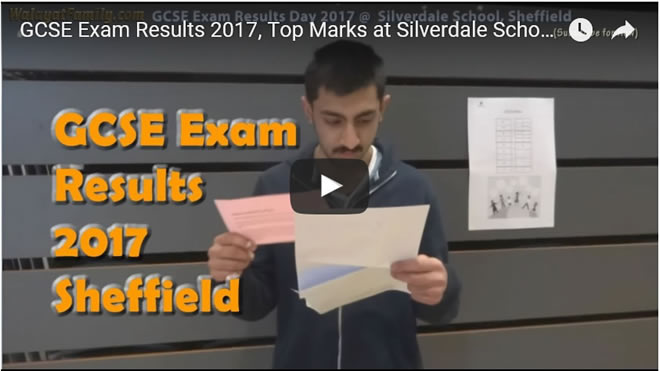 Adnaan started Silverdale school in September 2012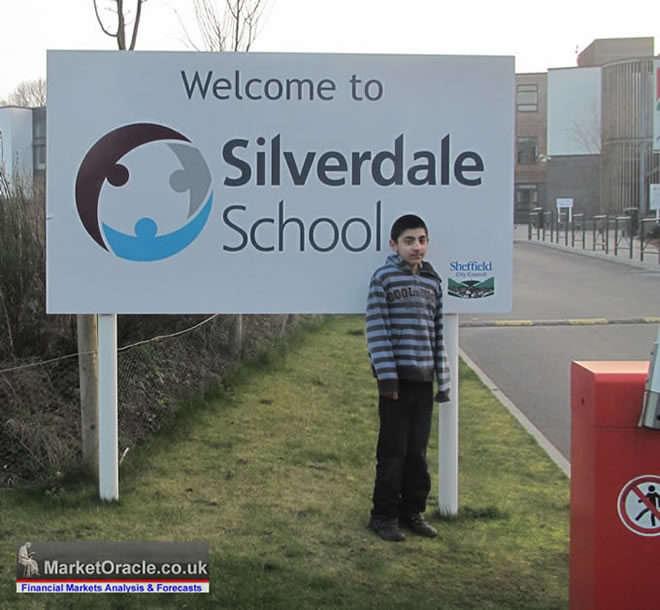 It's now 5 long years later and time to see if all that hard work has paid off.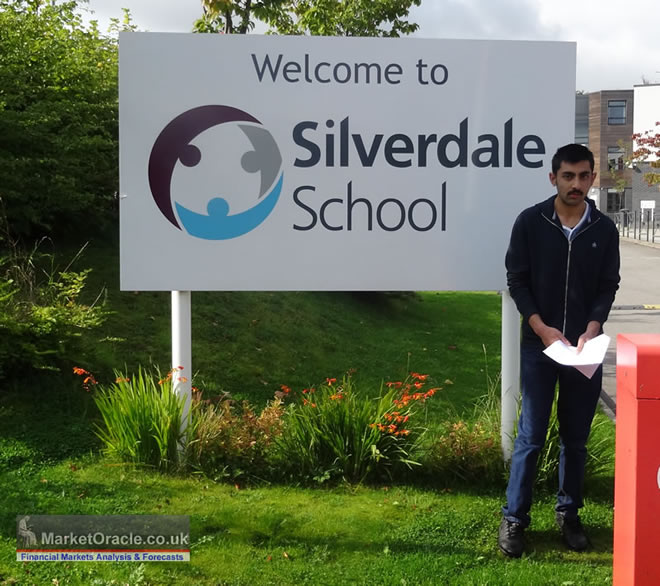 Everyone loves going to the sea side on a hot summers day. Just be careful if you pop down to Bridlington Harbour and decide to take a ride on the speed boats such as Purla, as our experience was that they cram too many people onto the boat i.e. 5 on the front row. Unfortunately this increases the risks of getting injured as was 12 year old Sami's experience.
The problem is that if your sat at to close to the ends of the front row then there is a good chance your going to get your face banged on the rim that curves round to the front, especially if your a child. Luckily it could have been worse. Also the staff just wanted us to move on because our bleeding son was apparently putting off other people from riding their speed boat, even shouting at us to move on!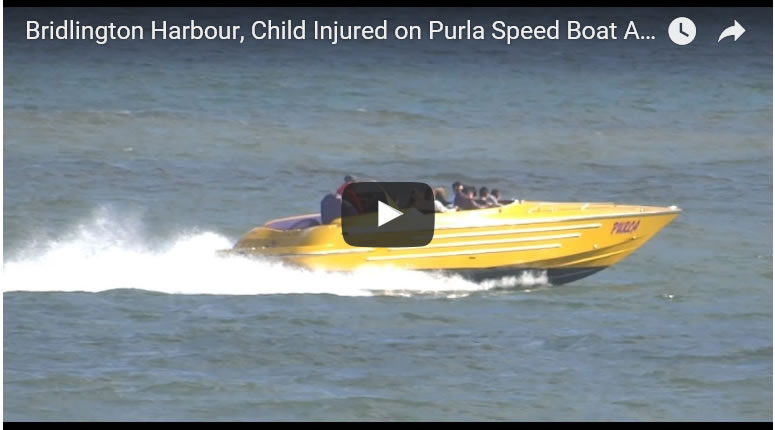 So if your in Bridlington, and choose to take a speed boat ride then make sure they don't cram too many people in the front row at least, as you want your head to be well away from that front rim!
By Nadeem Walayat
Formerly Britain's greenest city, Sheffield has become infamous world wide for the felling of thousands of the cities biggest and best street trees. This documentary answers the many questions of exactly what is happening and why and what are the likely economic and environmental consequences to follow the initial felling of 6,000 trees by the by Spanish Ferrovial owned Amey, as the first tranche of 6000 trees to be felled nears completion. The consequences of which Sheffield will pay a heavy price for decades to come, and not just economic consequences in terms of lost capital value to Sheffield's property market, but health and environmental consequences, as at a time of heightened climate change awareness, Sheffield City Council is going in the opposite direction to recommended climate change alleviation measures of greater tree leaf coverage so as to soak up carbon from the atmosphere and offer people and properties shade during the ever hotter summer months.
So do watch this documentary to understand what is happening to Sheffield's trees, as the first tranche of 6,000 felled trees will likely be followed by many more thousands of trees to be felled in future years.
Here is our documentary that explains what has been happening to Sheffield's trees, as the first tranche of 6,000 felled trees will likely be followed by many more thousands of trees to be felled in future years.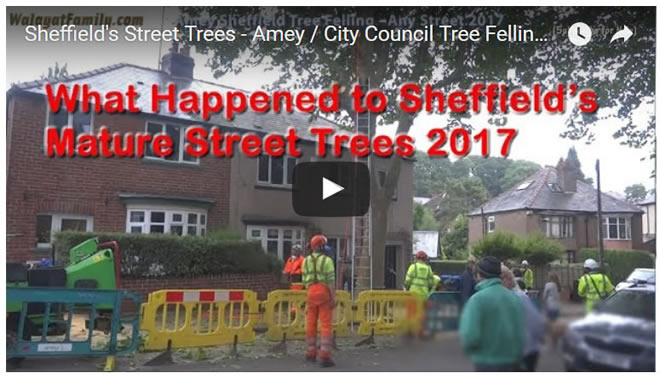 And here are a few screen shots from the video to illustrate what could be gone within a matter of days, with many thousands more trees marked for felling.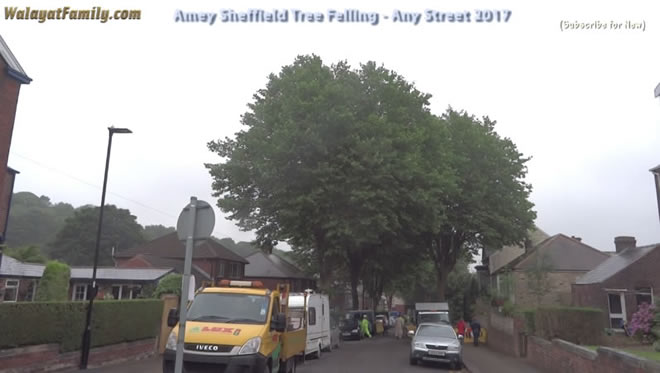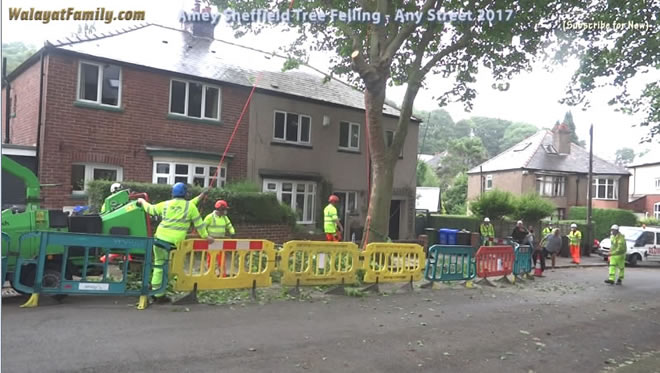 Sheffield is holding it's annual Tramlines Music festival weekend (Friday 21st to Sunday 23rd July), with music stages situated not just across the city centre but across many of Sheffield's best parks, pumping out music to cater for all tastes, and you don't have to pay for expensive wrist bands to enjoy the Tramlines experience as there are many free stages across the city such as in the Peace Gardens which we visited Saturday amongst other venues. Here's how the Peace Gardens music went down, where the crowd was about half that of last year, probably due to a poor weather forecast for Saturday. And remember that Tramlines continues Sunday across the city for its third and final day.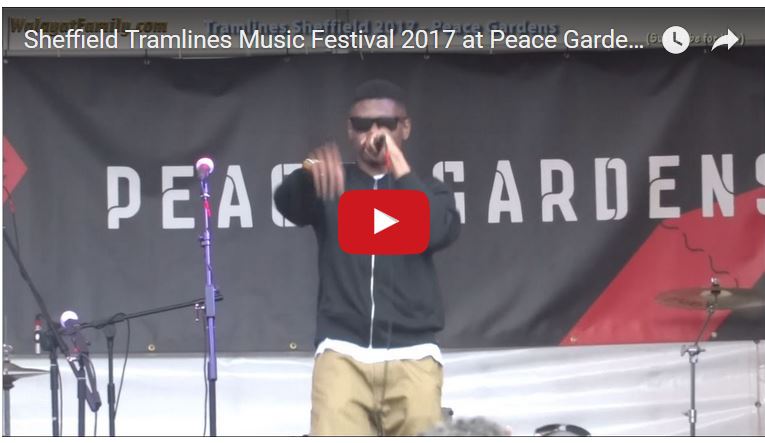 By Anika Walayat
Copyright 2017 http://www.walayatfamily.com/ - All Rights Reserved
The residents Grenfell Tower have paid the heavy price for the cladding refurbishment craze that has been sweeping Britain for the past decade. One of 30 to 50 year old social housing tower blocks, many of which that should have been demolished but instead are being dolled up with cladding and insulation to reduce energy costs to make them externally more appealing to both residents, visitors and most importantly nearby affluent areas as was the case with Grenfell Tower, a pocket of social housing in Kensington, probably the most affluent area of Britain.
Britain has over 4,000 similar tower blocks across the land which has triggered city councils to in a panic start checking the materials used to refurbish and clad their own tower blocks. Sheffield has over 100 tower blocks across the city, many of which have recently been refurbished with exterior cladding.
So are Sheffield's High RIse Flats Safe?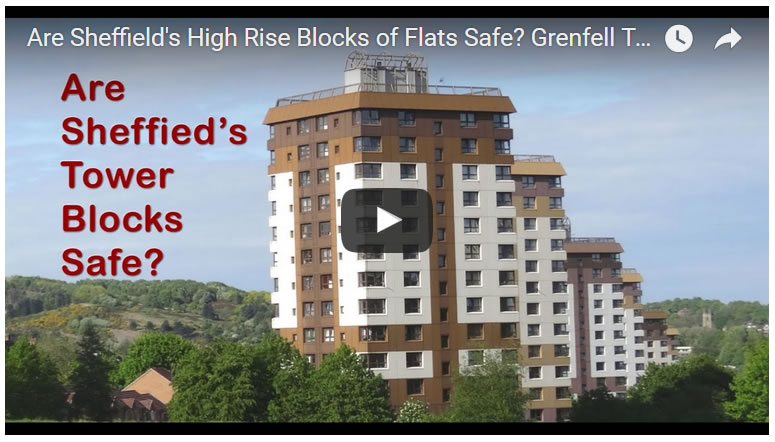 And how many more Grenfell's until the local authorities arrive at the logical conclusion that most of the tower blocks built during the 1960's 70's need to be torn down and rebuilt.
By Nadeem Walayat
Millhouses park is situated 3 miles south west of Sheffield city centre, off Abbeydale Road South.
Find out why Millhouses Park rates at 9 out of 10 - A small flat park towards the South of the city and is home to the annual Muslim Eid Festival. It has many, many facilities for the kids including a boating lake, and several distinct play areas, and also has a great outdoor gym.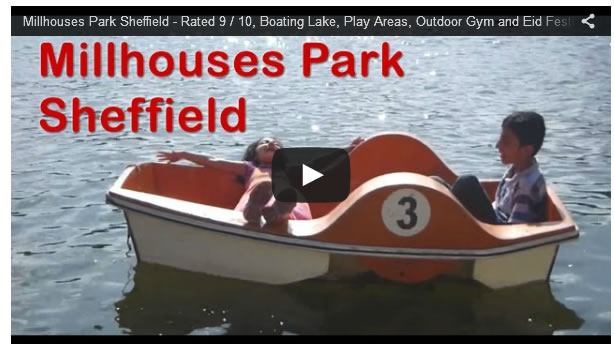 Visit our channel for more videos on Sheffield's many parks and subscribe for new videos. http://www.youtube.com/user/WalayatFamily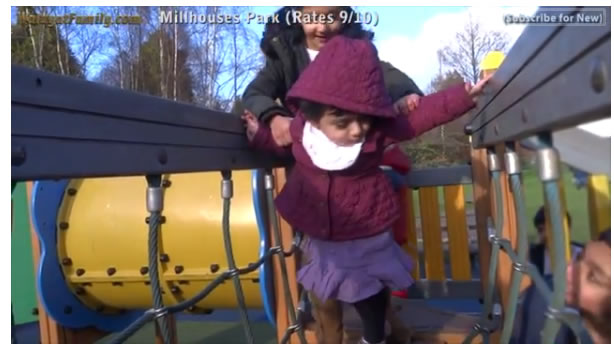 Graves park is Sheffield's largest park and is located 3 miles south of the city centre, with the main entrance off Hemsworth Road.
The Graves Park features the annual Highland Fling, has lots of animals on show, ranging from large prize cows to owls to ferrets and the usual pets such as Dogs. Also there are lots of rides and many food stalls. Find out why the Graves Park rates 10 out of 10 in this fun to watch video.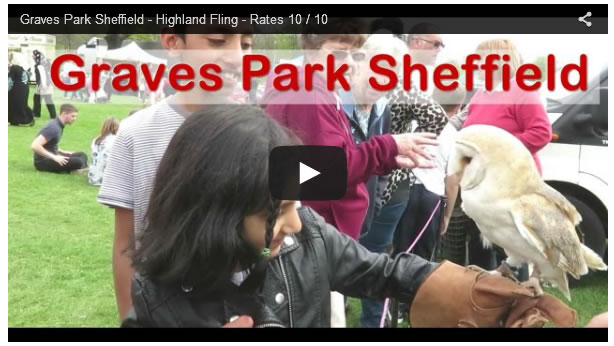 Visit our channel for more videos on Sheffield's many parks and subscribe for new videos. http://www.youtube.com/user/WalayatFamily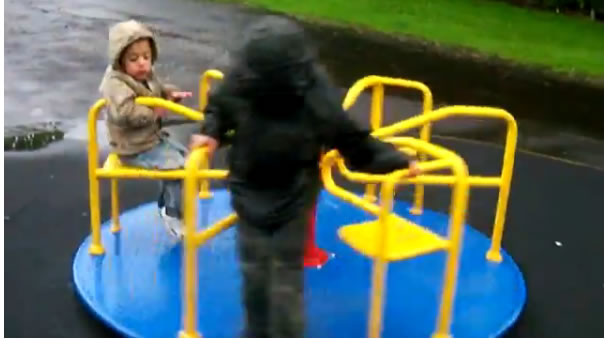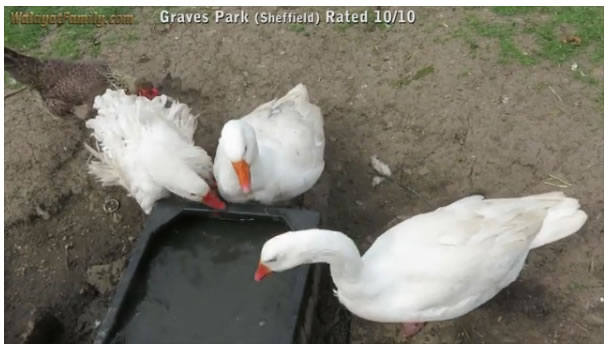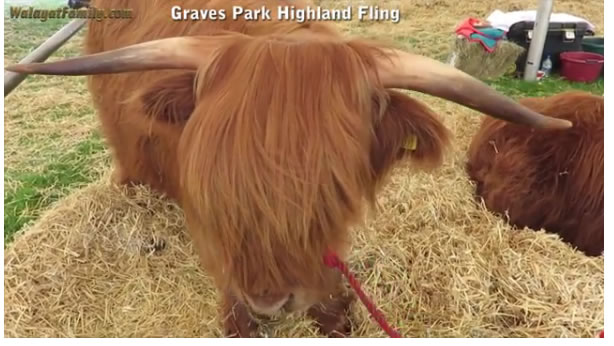 This week the producers of Channel 4ís Gogglesprogs came to our school, Dobcroft Juniors to choose some children who will be sat on a sofa and watch TV, and then they will film how they react to what they are watching, so it is a kidís version of Goggle-box.
In this video I explain what happened, so you know too what to expect when they come to your school scouting for children.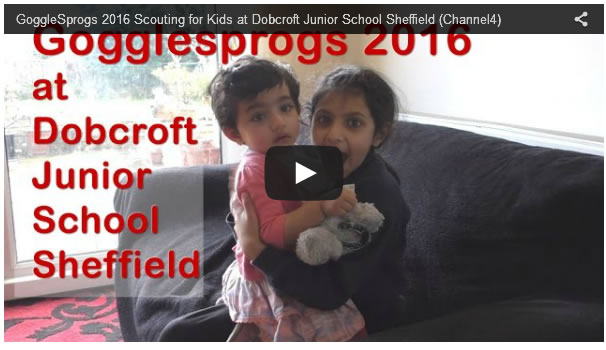 Subscribe to our channel for more videos in this series https://www.youtube.com/user/WalayatFamily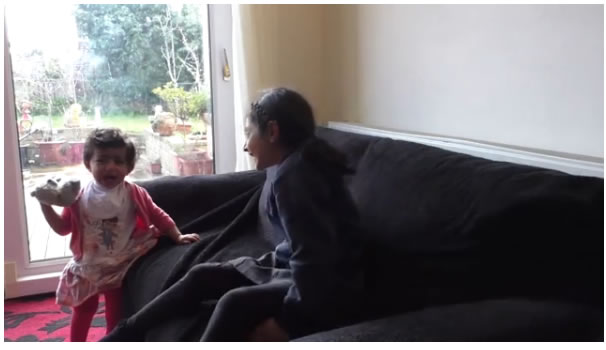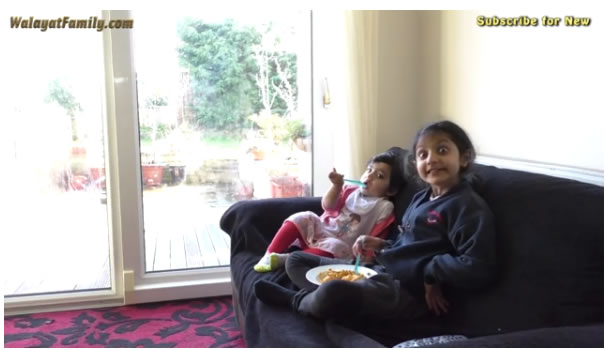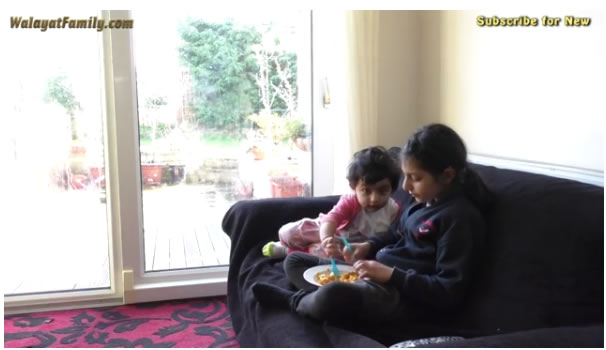 Norfolk Heritage Park is located 1 mile south east of Sheffield city centre. Entrances are off Guildford Avenue and Granville Road.
The annual Norfolk Park Fayre has battle re-enactments most years and is good family fun with lots of activities and displays. Find out why Norfolk Heritage Park rates at 6/10 in this video.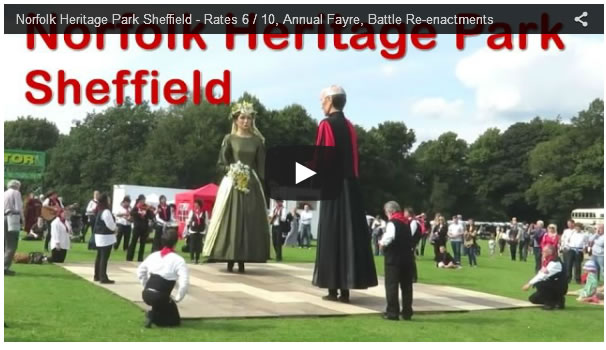 Visit our channel for more videos on Sheffield's many parks and subscribe for new videos. http://www.youtube.com/user/WalayatFamily